The hardware consists of a USB based DAQ device of which 14 external terminals and 2 internal channels are used for a total of 16 voltage signals.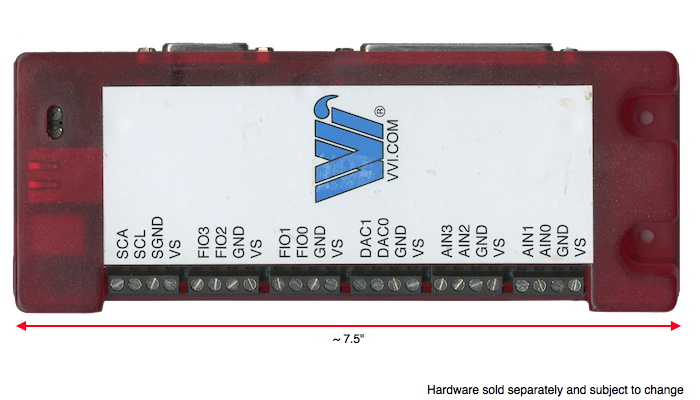 Features
• High precision and industrial quality.

• DAQ Plot software, device driver and hardware.

• Plug and Play USB DAQ device. DAQ Plot automatically recognizes when you plug it in and, when configured, will automatically acquire from the hardware the next time it is launched.

• Connections include both USB and Ethernet. Choose USB for convenience or Ethernet for cabling needs.

• 14 analog input channels. Dynamic range: 0V to 5V; Resolution: 16 bits. Factory calibrated.

• High-speed hardware clocking for uniform time sampling up to 50,000 samples per second.

• 8 digital output channels.

• 2 analog output channels, 12 bits of resolution, which are driven by DAQ Plot's feedback loop.

• Low-speed clocking for sampling as low as 1/500th second in 12 bit mode and 1/200th second in 16 bit mode.

• Low noise pre-amplifiers for input voltage gains between 1 to 8.

• Real-time adjustment of device states and real-time output of data which can be viewed and selected immediately.

• All channels are accessible via screw terminals from an accompanying breakout board.

• USB 2.0 and 1.1 compliant full speed controller. Designed and tested to work with USB wire and wireless hubs and multiplex on one USB bus. Can be powered from the USB controller (up to 500mA) or an external power supply.

• Enclosure size approximately 75mm x 175mm x 25mm. Rated for industrial temperature range (-40 to +85 ?C).

• Includes screw terminal breakout board, USB and Ethernet CAT-5 cables and external power supply.
The following is a brief list and description of the Hardware sections:
Pro Hardware
Connectors
Describes the connectors to the DAQ device.
Specifications
Describes the UBS DAQ hardware specifications.
---
© Copyright 1993-2018 by VVimaging, Inc. (VVI); All Rights Reserved (Legal). Please email support@vvi.com with any comments you have concerning this documentation.