The Basic Hardware is the DLP-IO8-G data acquisition module. To buy that hardware please email sales@vvi.com or consult a retailer such as DIGIKEY www.digikey.com or if you are not in the United States then a retailer local to your area.
Do not install a third party driver if this hardware is to be used on OS X 10.11 (El Capitan) or above as the driver is built into the operating system.
The hardware consists of a DAQ device front ended by a USB controller and connector of which 8 terminals are used for a total of eight voltage signals. Collectively it is called the "Basic USB" Hardware because of the USB connector even though the protocol is serial port. Basic hardware settings are described in the Basic USB Preferences.
The tutorial First Project describes how to use the Basic Hardware.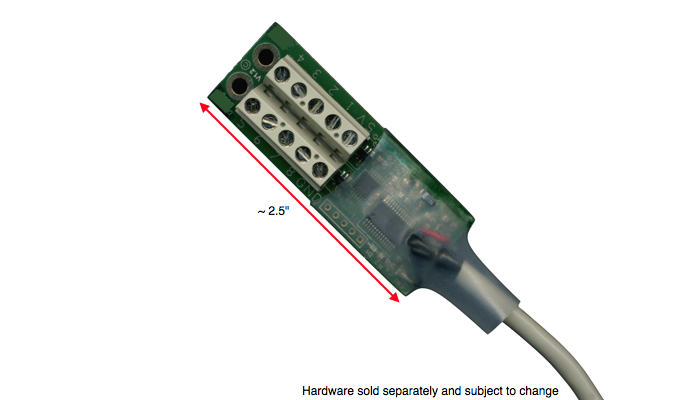 Features
• Economical and compact data logger.

• DAQ Plot software, device driver and hardware.

• Small circuit board (approximately 2.5 x 1 inches) with an attached USB cable.

• Plug into USB port, emulates a standard serial port.

• 8 analog input channels. Dynamic range: 0-5V; Resolution: 10 bits.

• Clocking controlled by software timer.

• All voltage input channels are wired to screw terminals.

• Low cost DAQ with USB connector. Powered via the USB bus.

• Includes screw terminals on DAQ unit and integrated USB cable.

• Requires installation of 3rd party driver provided at time of purchase.

• Good for demonstration and educational uses and for any project that accepts a quick and inexpensive data logger to measure signals.
The following is a brief list and description of the Hardware sections:
Basic Hardware
Connectors
Describes the connectors to the DAQ device.
Specifications
Describes the DAQ hardware specifications.
---
© Copyright 1993-2018 by VVimaging, Inc. (VVI); All Rights Reserved (Legal). Please email support@vvi.com with any comments you have concerning this documentation.