DAQ Plot ► Hardware ► Standard ► Connectors
The following schematic diagrams the connectors that you will be using.
To mark the connectors on your hardware device click this template figure: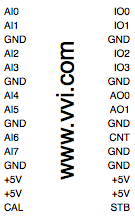 and print the resulting PDF so you can tape it to the box.
To setup the logic for these terminals see Standard USB Preferences.
---
© Copyright 1993-2018 by VVimaging, Inc. (VVI); All Rights Reserved (Legal). Please email support@vvi.com with any comments you have concerning this documentation.