DAQ Plot ► Hardware ► Standard
The hardware consists of a USB based DAQ device of which 8 terminals are used for a total of four voltage signals.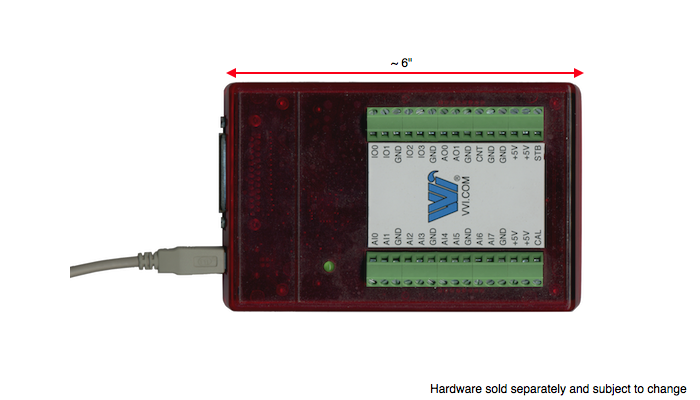 Features
• Good features and cost.

• DAQ Plot software, device driver and hardware.

• Plug and Play USB DAQ device. DAQ Plot automatically recognizes when you plug it in and, when configured, will automatically acquire from the hardware the next time it is launched.

• 4 analog input channels. Dynamic range: +/- 10V; Resolution: 12 bits.

• 20 digital output channels.

• 2 analog output channels, 10 bits of resolution, which are driven by DAQ Plot's feedback loop.

• High-speed hardware clocking for uniform time sampling from 1 to 100 samples per second.

• Low-speed clocking for sampling between a twentieth of a second and two minutes.

• Low noise pre-amplifiers for differential input voltage gains between 1 to 20.

• All voltage input and output channels are wired to screw terminals.

• Real-time adjustment of device states and real-time output of data which can be viewed and selected immediately.

• USB 1.1 controller also works with USB 2.0 in 1.1 compatibility mode. Designed and tested to work with USB wire and wireless hubs and multiplex on one USB bus. Powered via the USB bus.

• Includes screw terminals on DAQ unit and USB cable.
The following is a brief list and description of the Hardware sections:
Standard Hardware
Connectors
Describes the connectors to the DAQ device.
Specifications
Describes the UBS DAQ hardware specifications.
---
© Copyright 1993-2018 by VVimaging, Inc. (VVI); All Rights Reserved (Legal). Please email support@vvi.com with any comments you have concerning this documentation.