The Registration inspector is used to register your use of the VVI Cloud Service and also change your account password. It is accessed via the Preferences sub-inspector which is the same way to access the Start/Login editor.
Please make sure to register your use of the cloud service and provide complete and accurate information.
Register Editor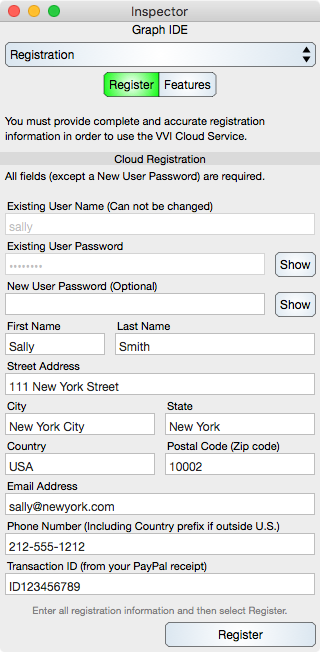 Cloud Register
Existing User Name : The name that was given to you when you signed up for the VVI Cloud Service and which you logged in with using the Start/Login editor.
Existing User Password : The existing password of your VVI Cloud Account.
New User Password : Enter a password if you wish to change the password of your account or leave it blank to keep the existing password.
First Name : Your first name.
Last Name : Your last name.
Street Address : Your physical location street address.
City : The name of the city that you live in.
State : The name of the state (or province) that you live in.
Country : The country that you live in.
Postal Code : The postal code of your physical address.
Email Address : Your permanent email address (must not be temporary and must be an active account).
Phone Number : Your phone number.
Transaction ID : The Transaction ID from your PayPal receipt or if you purchased it under an umbrella P.O then the purchase number of that P.O.
Register : Select the register button to register your use of the VVI Cloud Service. All fields must be valid and you must be logged into your account.
Features Editor
The Features Editor shows features that are enabled for the logged-in cloud account.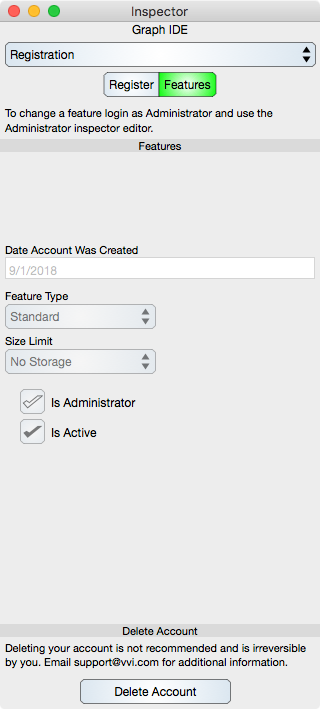 Features
Date Account Was Created : The date that the account was created.
Feature Type : Standard or Pro.
Size Limit : No Storage or 100MB. This defines the amount of space authorized for use on the server in order to store Graph IDE documents.
Is Administrator : Checked if the account is an admin account.
Is Active : Checked if the account is active. A nonactive account can not be used so this button will always be checked.
Delete Account : Select this button to delete your account from the active accounts. If you delete your account then you will not be able to access it again. It may be possible to retrieve your account documents after deletion. If you deleted your account in error then email support@vvi.com as soon as possible to see if you account, and its documents, can be retrieved. A deleted account may not be able to be retrieved.
---