The Cursor Information (short for Cursor Information Selector) is a small area that tracks the cursor as you move it and shows information pertinent to the current or proposed operation. The figure below shows the Cursor Information hovering over a Function graphic (curve) that resides on the graph's coordinate system.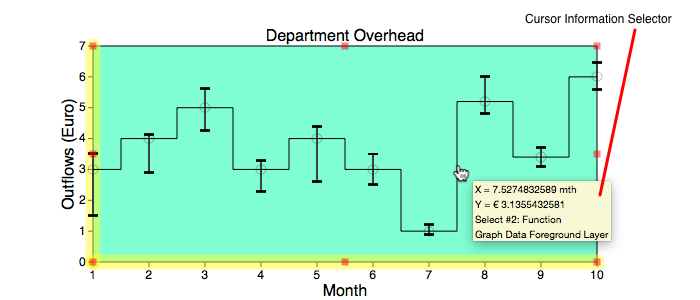 Note these features of the cursor information shown above:
The first two lines show the cursor's x and y values in the graph coordinate and units. The first line has units of mth (month) and the second line has units of Euros. Notice that month is an abbreviation suffix while Euro is a symbol prefix, in accordance with convention and standards.

The third line shows the proposed operation (upon mouse click or touch), the sequence order of the graphic in its Layer and the type of graphic (or its description if one is assigned).

The fourth line shows the identity of the layer that the graphic is in. The identity has a default or can be assigned using the Layer inspector editor.

The coordinate variables (X and Y in this case) change according to the coordinate system of the Graph thus adding another element of information.
The Cursor Information changes according to focus and coordinate system. As you move it around you will see its background color change according to fixed criterion. The Cursor Information will also report the point or spline value and number being edited when a graphic with a point edit mode is being edited.
The Cursor Information Selector can be turned off in the Application Preferences inspector editor. The Cursor Information may appear distracting but it also provides valuable information that is gleaned from various layers, coordinates and contextual operations and presented in a immediate way so turning it on or off has different advantages.
The cursor (if available) itself also changes according to context and provide a rudimentary amount of information, but not nearly the amount of information as compared to the Cursor Information Selector.

---