This section describes how to write a custom application called HandsOff. The user interface is diagrammed below.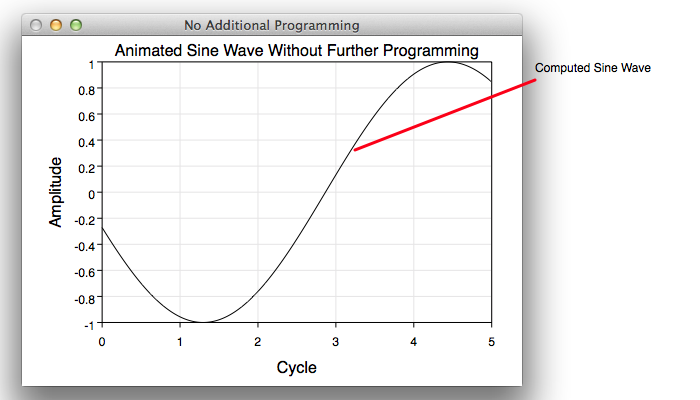 The fastest way to write a custom application is to download the HandsOff example project, compile it and modify it for your needs. HandsOff resources are available from these links:
HandsOff.zip
The compressed HandsOff project located on your disk within this manual.
HandsOff.zip
The compressed HandsOff project located at the vvidget.org web site.
Xcode
The Xcode application on the Mac App Store.
The following explains the essential steps of the HandsOff project.
The graph and white portion in the figure above is a Graphic View that is loaded from a Graph IDE Document. That document is set to animate and compute a sine curve on the graph. There is no other programming required. To get a document to load into an application follow these steps:
Add a Custom View to the application window.

In the Identity inspector of that custom view assign the Custom View to the VVPUBLIC_GraphicContainerView class. Then in the User Defined Runtime Attributes add a new row and assign:

| | | |
| --- | --- | --- |
| Key Path | : | documentName |
| Type | : | String |
| Value | : | HandsOff |

Link in the necessary frameworks.
The HandsOff.zip project is already setup with the proper references and build phases so that might be a good starting point.

---