A legend associates a color with a description for each data graphic such as a curve. For a graph with curves on it, a legend shows consecutive rows of a circle filled with the curve color and a label description to the right of that circle. The following figure shows a graph with a legend in the upper left of the graph's frame.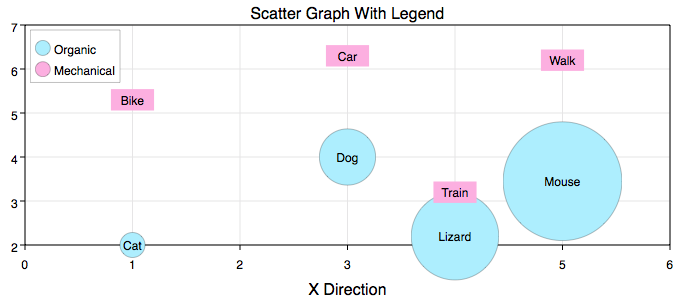 To make a legend follow these steps:
Drag out a Graph. Double click within the graph frame to focus on the graph data layer.

Add Data Graphics to the graph data layer. For each data graphic set the description in the Expert inspector. The description shows up in the legend label.

Click the menu item ► . A legend will then be placed in the upper layer of the document (not in the graph's data layer). To get to the legend, double click to defocus the data layer and then select the legend graphic.

The legend consists of a Rectangle background plus a Group graphic of circles and labels. You can work with those graphics or ungroup the legend group and work with the individual components of a legend. One thing you might want to do right away is to select the background and group and drag it to different location to un-obstruct any data that might be shown on the graph.
The Chart Tasks implements automatic legend generation and data is imported using a table. Consider that for more automated graph generation and then export the resulting graph to a Graph IDE document for fine tuning. See the Graph manual (accessible via the help menu) for further details.
Note that the same result can be attained by manually drawing Circle, Label and Rectangle graphics and that the Make Legend composite is simply a convenient way to make a legend. For graphs with one curve, it might be easier to simply make a legend yourself, but for a graph with many curves the automatic legend generation can save time.
---