A trajectory is a sequence of points connected by curves. The curves are Cubic Bezier sections (see Cubic Bezier). The figures below show examples of trajectories.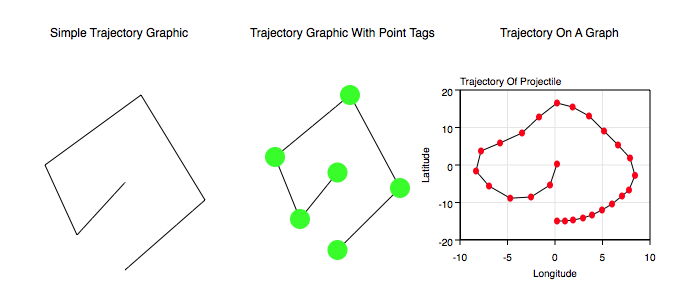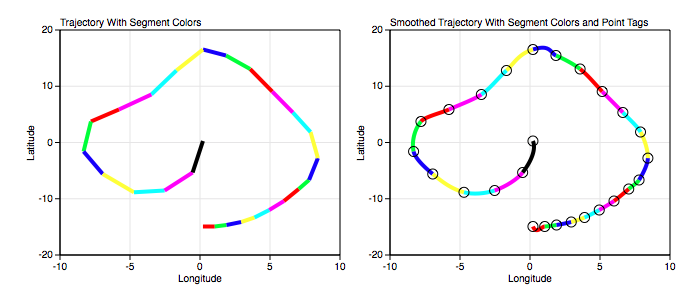 Some standard operations are itemized below.
To create a trajectory bring forward the Graphic Selector, click the trajectory factory cell and then mouse down on a Graphic View and drag the cursor to another point. The initial and final cursor locations define the boundary of a predefined trajectory graphic.

You can also create trajectories from the standard menu item or drag them out from the trajectory Factory Inspector.

Resizing and rotating the trajectory transforms all points simultaneously. For more information see Standard Editing.

One thing you will probably want to do with a trajectory is modify its points. You can do that via the main or parser Inspector Editor or by editing it directly with the mouse controls. Initially, the spline knots (tangent end points) are under the vertex points so you will not be able to get at them by clicking on them. You should first smooth out the graphic so that the control knots move away from the vertex points and then enter the mouse edit mode and move those knots as you wish.

To program a trajectory see the Programming section.
Data Editor
The Data Editor for the Trajectory Graphic is shown below.
Graphics Editor
The Graphics Editor for the Trajectory graphic is shown below.
Segments Editor
The Segments Editor for the Trajectory graphic is shown below.
Stats Editor
The Stats Editor for the Trajectory graphic is shown below. Note: The data is consider the vertex points while the knots are considered as graphical. Thus the statistics only reflect the vertex values.
---