Most 2D Data Graphics and 3D Data Graphics have a point tags inspector editor that control that graphic's point-oriented graphical attributes called point tags. Point tags consist of markers and labels. Markers are an arbitrary graphic, such as a circle or square, placed at each data point. A marker can be made from scratch or selected from a pre-made palette of graphics as shown and described below. A Label is a single line of text centered about each point. The figures below show examples of point tags.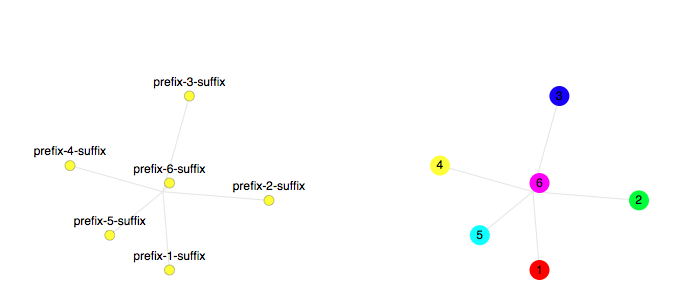 The inspector for point tags is described below.
Markers Editor
The Markers Editor is shown below.
Labels Editor
Labels are a single-line textual graphic, either arbitrary or predefined, placed at each data point. A label is formulated as described below.
Values Editor
Values are numbers that are applied to each point as either a label or a scaling of the marker (for bubble graphs). When scaling, the marker linear mapping factors are applicable. That mapping is defined as follows:
factori = scale * (valuei - min)/(max - min) + offset
Factor multiplies the marker's size (width and height). When min and max are the values minimum and maximum values and offset is zero then the factor is between zero and scale, meaning that markers are scaled by the value times scale. For example: If scale is 10 then the markers are made 10 times bigger after multiplying by value. When offset is one then the marker is no smaller than the marker as defined without values applied (with no values entered into the table).
When using the Set Of 2D Points task in the Chart tasks, min and max are the minimum and maximum of all data points, offset is one and scale is a value that is zero or greater.
Values controls are shown and defined below.
Colors Editor
Individual markers can have a separate fill color which can be assigned by the colors table shown below.
---