The Formula Selector computes values for a Spreadsheet. For making more general algorithms see Programming.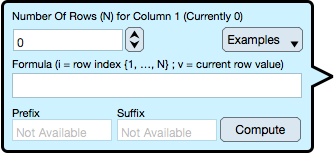 Formula : A formula that uses the index "i" as its domain and utilizes the Programming facilities to compute range values. A formula is a single statement program.
Prefix : The prefix to the range of the formula.
Suffix : The suffix to the range of the formula.
Number Of Rows : The number of times that the formula is computed. Upon each execution the domain index is incremented by one.
Compute : Once all parameters have been entered then select the Compute button to perform the formula mapping.
---